July 2020
Dear Student (and Parent/Carer)
This information is for every student who is due to receive exam results this summer. Key dates are given, as well as information on how your results were calculated. There is also advice about the grounds on which you can make an appeal. There is a lot to take it, but hopefully, having all the information in one place will be helpful.
The most important thing to remember is that whatever your exam results, there will be a range of options available to you.
You can only collect your own results. If you are unable to collect them in person you may authorise someone else to collect them on your behalf. This authorisation must be in writing. Alternatively, if you leave a large stamped addressed envelope with Mrs O'Neill, our Exams Officer, or at reception, we will post your results to you. Please note that exam regulations dictate that results must not be supplied by telephone, fax or email under any circumstances.
Progression to your next stage – be that sixth form, university, work or UCM
Ofqual, the exam regulator, has confirmed that your results will carry the same weight as in other years and should be treated the same by employers, colleges and universities.
Tuesday 11 August: Cambridge Assessment IGCSE
Cambridge IGCSE results are available online from 6.00 am on Tuesday 11 August. To access them, you need an individual login code. If you don't have your code, please contact: bhsenquiries@sch.im
Thursday 13th August 2020: JCQ A Level Results (AQA, OCR, Pearson, WJEC)
You can collect your results in the Sixth Form Centre from 8.00 am onwards.
Thursday 20 August: WJEC GCSEs and BTEC First and other Level 2 results
These will be available in school from 9.00 am on Thursday 20 August in the Sixth Form Centre. If parents are collecting results on behalf of their son/daughter, they should bring with them a signed letter authorising that from their son/daughter along with some personal identification.
Students will be given a summary of all their results, including iGCSEs and relevant results from previous sittings. Support will be available for students as they collect their results, in respect of questions about Sixth Form, UCM, Work or other pathways.
Joining our Sixth Form
Students who have applied to join the Sixth Form will have a letter in their results pack to inform them whether they have been accepted. If you are successful and happy with your A level choices, there is no need for an interview and we will see you on September 11th. The Director of Sixth Form will communicate further via google classroom before school begins. If you wish to change any of your A Level choices, please complete the short form in your results pack and hand it in to the Sixth Form office.If there are any issues with your new choices, the Director of Sixth Form will contact you to arrange a face to face meeting.
Whilst we are keen to maintain our entry requirements of two GCSE B grades and four C grades, we will consider every applicant on a case by case basis, especially given the unique circumstances surrounding this summer's GCSEs. Students that have not yet applied to join the Sixth Form but wish to do so, following receipt of their results, will have an opportunity on results day and in the weeks leading up to the new academic year.
UCM Courses
On 20th-21st of August, from 9:30 am - 3.00 pm, you can go to UCM and meet representatives from all departments. They will be available to offer information, advice, and guidance about the courses available. There will be no UCM representation in school on results day this year.
How will exam grades be calculated?
When the decision was made to cancel exams, we asked your teachers to provide us with:
'Centre Assessment Grades' for all subjects that you were entered for, based on the available evidence and what your teachers felt you most likely would have achieved, if you had sat an examination this year.
A 'rank order' of all learners within each grade for the subject, based on what your teachers felt you would most likely achieve at qualification level, under normal circumstances.
We put in place a really robust process to calculate and quality assure our grades and these will be standardised by exam boards. Your teachers based their decisions on a range of evidence, including any work you may have completed in class, coursework, any prior exam or mock results, and your general performance during the course. The information that was submitted was checked beforehand by other teachers.
The exam boards are in the process of reviewing the centre assessment grades and rank orders. Before they issue any final grades, they will review lots of key data – exam boards refer to this as 'statistical standardisation'. Historical data alongside the national picture and the data from us, will be considered.
This is really important as it makes the process as fair as it can be for everyone, by ensuring the same grading standards are applied for all schools and that grades remain comparable from one year to the next. If grading judgements in some schools appear to be more generous or severe than others, individual grades may be adjusted up or down to reflect that.
If you have a concern about a grade you have been awarded, you can ask us to:
Check whether an error was made when submitting your centre assessment grade and rank order to the awarding body
Raise a complaint with us if you feel you have evidence of bias or that you were discriminated against; you could also pass evidence to an awarding body who could investigate for potential malpractice
Seek any information the awarding body holds in relation to how your final grade was calculated.
Appeals
Ofqual have now confirmed that you cannot challenge your individual centre assessment grades or rankings this year. In the unique circumstances of this summer, Ofqual do not believe there is any person better placed than your teachers who could determine your centre assessment grade.
You can appeal, through us, if you feel the process this summer was not followed correctly in your case. You can ask us to do this, on your behalf to an awarding body if:
You think we have made an error when submitting a centre assessment grade or rank order
You think an awarding body made a mistake when calculating, assigning or communicating a grade
You would like to appeal against our decision not to seek any information the awarding body holds that would be needed for an appeal
You would like to appeal against our decision not to appeal to the awarding body
A detailed appeals process will be posted on the school website following results days. I must make it clear, it is not acceptable to challenge an individual member of staff in person, or by any other means of communication, regarding the grade you have achieved. The official appeals process must be followed. Staff will not discuss grading or ranking that was submitted with students or parents.
Next assessment opportunity
If you are unhappy with your results, you will be able to resit some subjects in autumn this year. WJEC (With the exception of Maths GCSE) and SQA are not offering an autumn exam series.
UCAS Points
For those of you studying a Level 3 qualification, please be assured they will carry the same number of UCAS points as in previous years. UCAS has created some helpful resources (click here to access) for those of you who have applied, or who are considering applying to higher education. Examination boards are regularly updating UCAS and universities about the process for issuing results this summer, so they can support you appropriately.
Staff will be on hand to help you make sense of your results, especially if it seems they could affect your future plans. Until then, stay safe and be happy.
Best wishes,
P. A. Burnett,
Head Teacher
Next Steps
On the 20th and 21st August (9:30am- 3pm), at UCM, representatives from all departments will be available to offer information, advice and guidance about the courses available at the college next year. Please be aware, there will be no UCM representation in school on results day this year.
Support will also be available from the 27th July at various venues around the island. See image below for further details: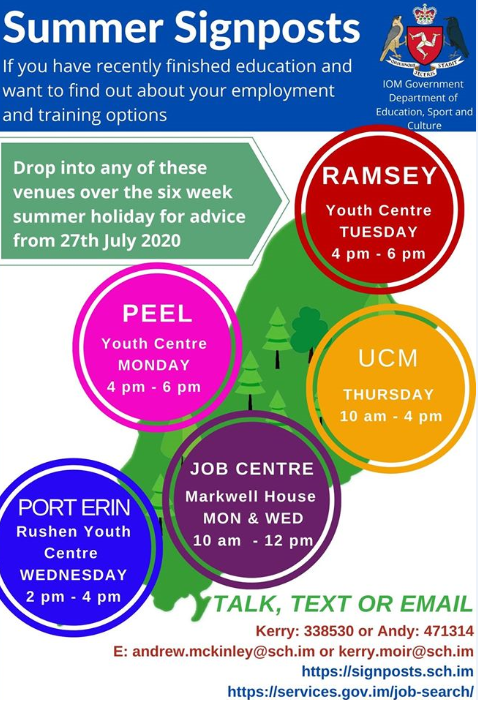 Grading Process
As referenced in Mrs Burnett's letter above, it is important to understand that grades submitted to the examination boards are subject to a national standardisation process to ensure they are consistent with those achieved in previous years. Further information regarding this, along with the process in general can be found here:
More detailed information on the process