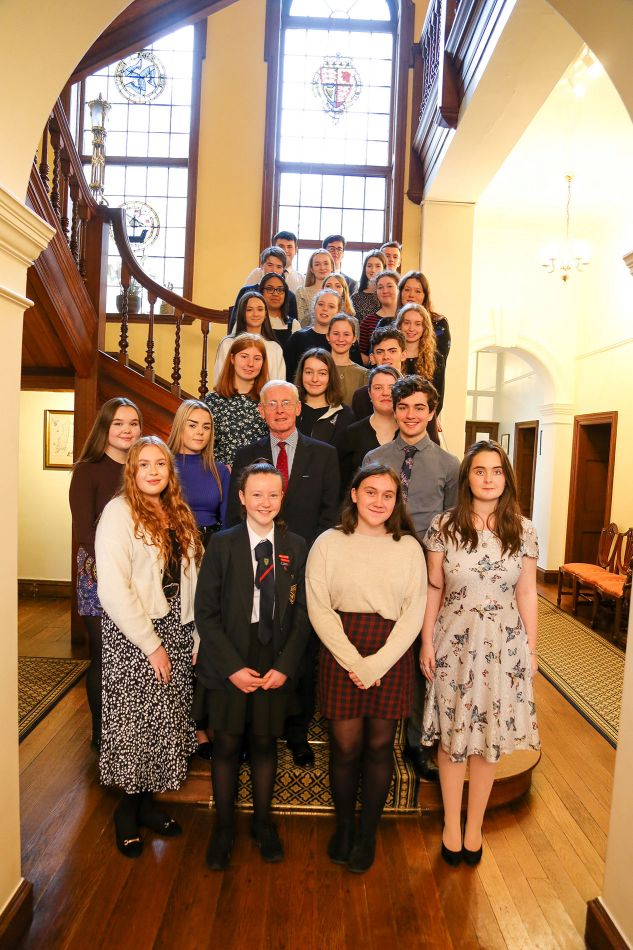 Government House (November 2020)
Lieutenant Governor hosts the Voltaire Society
The Lieutenant Governor hosted a special sitting of the Voltaire Society at Government House on Friday 20 November. His Excellency introduced the session by outlining his constitutional role and the relationship between the Crown and the island's government.
Surveying current arrangements across the various devolved regions of the United Kingdom, he underlined the importance of responsible government. He cited one of the earliest political slogans, popularised by American revolutionaries in the run-up to the War of Independence, to emphasise the vital link between taxation and representation. Drawing on his experiences of diplomatic service overseas, Sir Richard set out key principles of good governance, such as an independent judiciary.
Sir Richard also fielded questions from the floor on Brexit, human rights in an uncodified constitution and the challenge of tackling climate change.
Year 13 Politics students found the session particularly useful. Josh Williams commented: "I found it incredibly interesting. I particularly enjoyed his explanation of his role in the Isle of Man and his insights into the current constitutional situations in the United Kingdom and the United States." Emily Brady and Charlotte Peach also enjoyed the anecdotes from Sir Richard's time as Governor of Bermuda and Ambassador to Indonesia.
Jema Richardson ( Year 12 ) said: "I was interested in what he said about climate change. Although it is a worldwide issue, I think he was right to say that governments face a near impossible task in persuading voters to agree to the difficult steps that need to be taken."
All in all, it was a fascinating session. Ballakermeen staff and students were very grateful to His Excellency and the staff of Government House for the warm welcome.