At Ballakermeen High School we are committed to establishing a safe and welcoming environment, where everybody feels comfortable to be themselves. Pupils at Ballakermeen come from a variety of backgrounds and families. We celebrate equality and diversity through a range of PSHE activities and through cross-curricular links with other subjects. Celebrating different families and tackling homophobic, biphobic and transphobic bullying is crucial to making all children feel welcome, and enabling them to learn to accept others for who they are.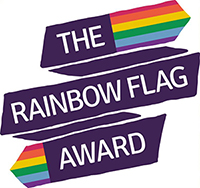 As part of our commitment to being an LGBTQ+ inclusive school, we are currently working towards the Proud Trust's Rainbow Flag Award. There are 6 key areas that our school is focussing on to ensure we are inclusive of everyone. So far we have achieved our Skilled Teacher, Student Voice, Support Governors & Parents, and Pastoral Support badges.

Please find below some useful websites and information on whom to contact for advice for LGBT+ young people and their parents/carers.
Services available on the Isle of Man

1. So you think your child is gay?- Questions and Answers by Stone Wall
https://www.theeastmanchesteracademy.co.uk/wp-content/uploads/sites/3/2018/05/So-You-Think-Your-Child-is-Gay-Questions-Answers-by-Stonewall.pdf
2. Coming Out- Advice and Guidance for Parents and Carers
https://www.stonewall.org.uk/help-advice/coming-out/advice-if-you-think-your-child-might-be-lgbtq
3. Mermaids- Resources for Young People
https://mermaidsuk.org.uk/young-people/
4. The Proud Trust- Supportive Information for Parents/Carers of LGBTQ+ Young People
https://www.theproudtrust.org/
LGBTQ+ Magazine